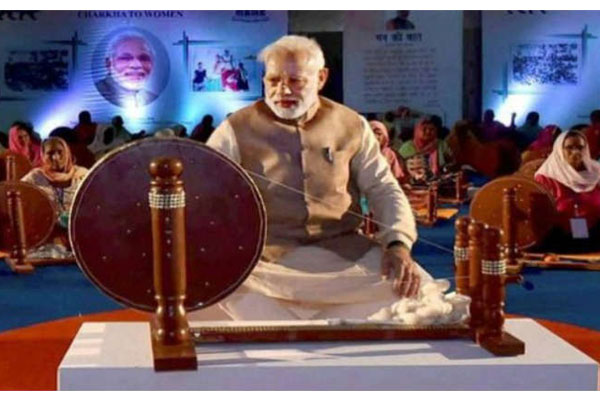 Prime Minister Narendra Modi has replaced Mahatma Gandhi in the 2017 wall calendar and table diary of the Khadi Village Industries Commission (KVIC) leaving the employees in huge disappointment. "It is a attempt to phase out Gandhi" said a senior KVIC staff memeber.
The commission's calendars have always featured Mahatma Gandhi, who founded the Khadi movement in the 1920s, aiming to boycott foreign goods in a non-violent protest against the British.
Taking a jibe at the Prime Minister, Trinamool supremo and West Bengal Chief Minister Mamata Banerjee on Twitter said "Gandhiji is the Father of the Nation".
Employees and officials of KVIC have opposed the move to exclude the image of Mahatma Gandhi from the cover of calendar and diary that show Modi weaving khadi on a large charkha, in the same classic pose as Gandhiji's. "Modi is an icon of the youth and the growing popularity of khadi in the world is testimony to this", sources told the news agency.
KVIC chairman Vinai Kumar Saxena however said the move was not "unusual" and that deviations have happened in the past.
More news: Snapchat discloses Universal Search to Facilitate Navigation
The sources said that sale of khadi products increased by five to seven per cent during the Congress rule, but the last two years had seen "unprecedented" jump in khadi sales with the increase now touching 34 per cent.
The Mahatma's great grandson Tushar Gandhi also expressed outrage and said, "Anybody can become an icon of anything but in order to be appreciated it has to be honest. On the calendar of 2017 also the quotes of Mahatma Gandhiji find centre place in each of the pages of the calendar", KVIC said. "It is not compulsory and there is no rule [on having Gandhi's image]", he said.
Swami Vivekananda and Mahatma Gandhi are timeworn and insignificant now? "This photo was taken in Ludhiana on October 18 a year ago when the Prime Minister distributed 500 charkhas to women at an event".
Opposition leaders were quick to ridicule the image, reports Reuters.