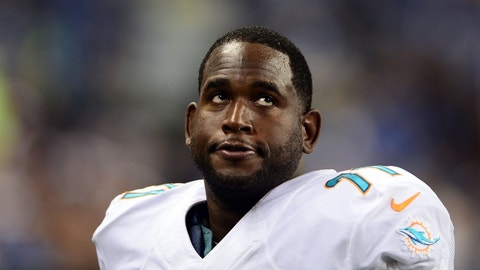 Former Chief Branden Albert was released by the Miami Dolphins on Thursday.
NFL Network first reported the news of the Dolphins' plans to release Albert and Mitchell, while the Miami Herald first reported Williams' planned release. Albert has struggled to stay healthy in recent seasons and, as The MMQB's Albert Breer pointed out on Twitter, he may not be "equipped" to play tackle anymore. The defensive end had 38 sacks from 2012 through 2014, but has just 6.5 sacks in 28 games since. The moves save about $20 million in 2017 cap space.
Albert has battled injuries during his time with the Dolphins. Williams' departure saves the Dolphins $8.5 million. He hasn't played all 16 games since 2011 with Kansas City. The Dolphins carried him on injured reserve all season, but the team has four proven starters - Byron Maxwell, Xavien Howard, Tony Lippett and Bobby McCain - presently on the roster.
More news: Future and Maroon 5 Link for New Song 'Cold'
The moves are not surprising as the team has younger players to succeed these guys, and with Williams and Mitchell, they had already lost their jobs.
Nov 13, 2016; San Diego, CA, USA; Miami Dolphins quarterback Ryan Tannehill (17) looks to pass while protected by center Mike Pouncey (51) and offensive guard Laremy Tunsil (67) during the second half against the San Diego Chargers at Qualcomm Stadium. Williams, an 11-year veteran, started the season's first five games before being replaced by Cameron Wake, who turned in a Pro Bowl worthy season from that point on.
Williams recorded 97.5 sacks during his 11-year National Football League career.