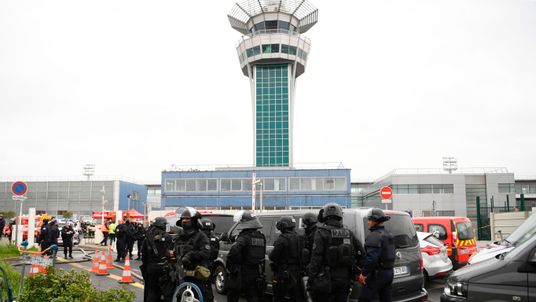 Paris: The man shot dead after attempting to steal a soldier's gun at Paris Orly Airport on Saturday was a "radicalised Muslim" known to security services and was also involved in another shooting incident hours earlier in the day, French authorities said.
A few hours after the terror incident at the Orly Airport in France, the Paris Prosecutor stated tonight that the incident is being investigated as an attempted terror attack.
Earlier Saturday morning, Ben Belgacem shot and lightly wounded a police officer at a traffic stop and then hijacked a woman's auto at gunpoint in another nearby suburb, the Paris prosecutor confirmed.
Ben Belgacem's father insisted his son - who had spent time in prison for armed robbery and drug-dealing - was not an extremist. "He never prayed and he drank", the father, who is not being named by French authorities, said.
Before the airport incident on Saturday, Ben Belgacem had already shot at police and stolen a auto in the suburbs of Paris.
This was the fourth attack against security forces deployed as part of France's Operation Sentinel, Le Drian said.
Paris prosecutor Francois Molins said Ben Belgacem appeared to have become caught up in a "sort of headlong flight that became more and more destructive".
One officer was injured by the gun fire - but was reported to be recovering well from the incident.
More news: Basketball: Big game for Steven Adams in Thunder win
An autopsy showed the presence of cannabis and cocaine in Belgacem's body, as well as an alcohol blood level of 0.93 grams per litre, a judicial source said on Sunday.
All flights in and out of Orly airport were suspended following the attack, but by Sunday morning traffic had almost returned to normal. Once there, a prosecutor said, Belgacem threw a bag containing a gas can at soldiers before hurling himself at them. He then stole a vehicle and drove to Orly airport. His flat was among dozens raided during the aftermath of the November 2015 Paris attacks that killed 130 people.
He said he wanted to "die for Allah", and a scuffle between him and two other soldiers ensued, which resulted in him being fatally shot.
At around 8:30 a.m. (3:30 a.m. ET), Belgacem headed inside the airport's southern terminal where he nearly immediately encountered a military patrol, the prosecutor said.
The other two soldiers on duty at Orly fired a total of eight rounds at Ben Belgacem.
Paris-born Belgacem was stopped by three police officers as he drove a white auto in Garges-lès-Gonesse, to the north of the city at around 6:30 a.m. (1:30 a.m. ET) on Saturday.
French prosecutors said an anti-terrorism unit was taking over their investigation.
The father, who was released from police custody on Sunday after being questioned, said his son phoned him minutes after the shooting "in a state of extreme agitation".