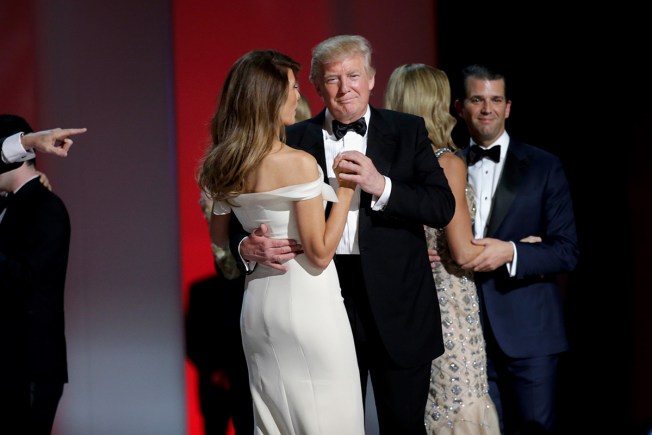 Trump's team shortened its parade to about 90 minutes.
The commander in chief raised $107 million for his January 20 swearing-in ceremony, more than doubling the previously record-holding $53 million President Barack Obama raised for his 2009 inauguration, according to Federal Election Commission records made public on Tuesday.
Sheldon Adelson, a casino magnate and major donor to Republican and Jewish causes, gave a reported record of $5 million for President Donald Trump's inauguration celebrations.
Big money from billionaires, corporations and a roster of National Football League owners poured into Donald Trump's inaugural committee in record-shattering amounts - to pull off an event that was considerably lower-key than previous inaugural celebrations.
The inaugural committee said it would start winding down the organization once it submits paperwork to the Federal Election Commission. The money paid for 20 events during the extravaganza, but produced excess cash that will be donated in the future to a charity, organizers said. The committee has not disclosed how much of the money it has spent.
Donor packages for the festivities ranged from US$25,000 to US$1 million or more for both individuals and corporations.
Billionaire investor Paul Singer gave $1 million after long expressing skepticism about Trump.
More news: Bahrain GP: Race notes - Renault
The report is likely to only intensify questions about Trump's commitment to the populist ideas raised in recent weeks by several policy shifts and realignments among White House staff.
The donations earned contributors exclusive access during inauguration weekend to Trump, his family, top administration officials and exclusive events conducted on January 20 and January 21 in Washington, D.C.
Brendan Fischer of the Campaign Legal Center, a nonprofit pro-transparency group, countered: "If you take Trump at his word that when political figures accept large amounts of money from corporate interests or special interests that they're indebted to those big donors, there's certainly reason to question what donors to Trump's inaugural committee might expect in return". He lifted those caps in 2013, when he raised about $43 million for a lower-key event. President Barack Obama outright prohibited lobbyists and corporations from donating to his 2009 inauguration and limited individual gifts to $50,000, although in 2013 he limited individual gifts to $250,000 and allowed corporate gifts of up to $1 million.
Former President George W. Bush raised $40 million to $42 million for each of his two inaugurations.
For Trump, the fast pace of fundraising appears to have continued past Inauguration Day. As part of that process, it plans to identify charities that will receive donations from excess money in its account.
"In the process, and equally important to us, was the opportunity to support several charitable organizations including local groups who traveled from our home state of MI, to participate in this great American tradition".