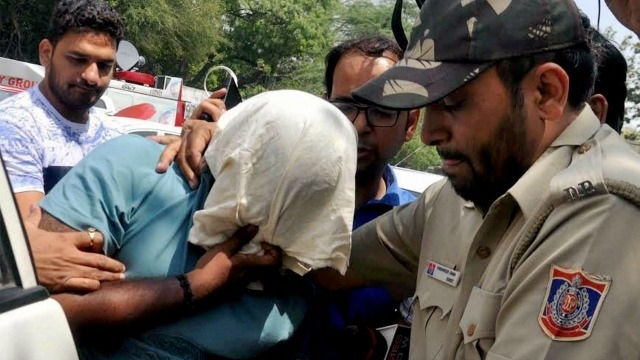 Within hours of the Delhi police uncovering Dinakaran's plot to snatch the "two leaves" symbol by bribing the EC and booking a case against him under the Prevention of Corruption Act, tremors were felt in Fort St George in Chennai held by the Sasikala faction.
Dhinakaran's alleged middleman, Sukesh Chandrasekhar, was arrested from Hyatt hotel in Delhi on Sunday night, and Rs 1.3 crore was recovered from him.
O Panneerselvam later said this - the ouster of Sasikala and Dinakaran - was his faction's first victory.
He also said the families of Dinakaran and Sasikala had undergone sufferings and also contributed to the party's growth. The rival O Panneerselvam camp is also meeting separately here to discuss the future course of action.
Both factions claim to be the "real AIADMK" and have staked claim to the party's Two-Leaf symbol, now suspended by the Election Commission while it studies their claims.
Six MLAs including P Vetrivel and Thanga Tamilselvan, have extended their open support to Dhinakaran, whose house witnessed hectic activity till early today.
More news: Man City up to third with win at Southampton
Regarding the second demand of probing late chief minister J. Jayalalithaa's death, Vaithilingam said the demand for the same is under the court's consideration, adding the government will follow the order.
Though Munusamy said that Panneerselvam is not racing for the chief minister's post in case of a merger between two groups, the former minister pointed out most of the AIADMK MLAs will opt for Panneerselvam to head the government. According to NDTV, E Palanisamy could remain as the chief minister, whereas, Panneerselvam could be awarded the post of AIADMK general secretary. A thorough investigation must be done into Jayalalithaa's death, ' Panneerselvam said.
Hardening his stand, Panneerselvam also asked for withdrawal of affidavits submitted to the Election Commission declaring Sasikala and Dhinakaran as party general secretary and deputy general secretary, respectively. The then surrogate chief minister OPS was asked to resign and make way for Jayalalithaa's long-time companion Sasikala. But party insiders in the inner ring of Sasikala family say the decision to oust Dhinakaran had Dhivakaran's green signal.
Dinakaran earlier said that as everyone had chose to keep him out of party affairs, he had made a decision to stay out.
Police got on Chadrashekhar's trail after they received a tip-off from an informer about certain Election Commission officials being approached.
Chief Minister Edappadi K. Palaniswami and Thambidurai meet twice fuelling speculations.