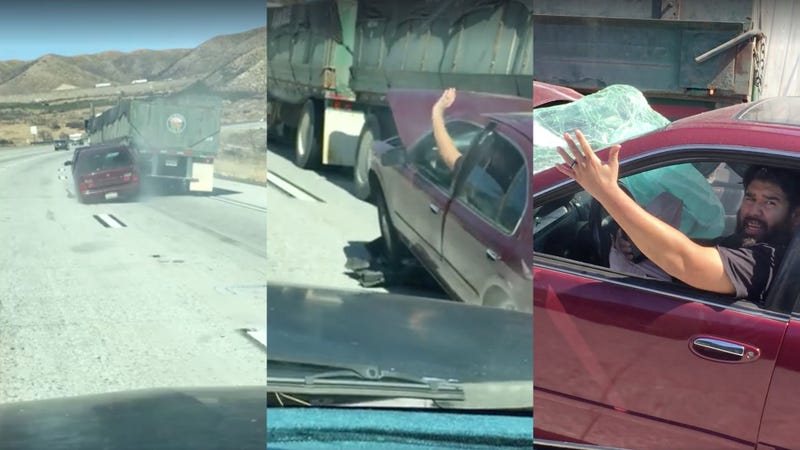 "He's not stopping", the trapped driver said in the video.
Well, this definitely isn't something you see every day.
Miraculously, the California Highway Patrol said the driver of the auto is okay. A red Nissan sedan collided with a big-rig truck but the truck seemed to be completely unaware of what had happened.
A driver says he's thankful to be alive after getting his vehicle wedged beneath a truck and dragged for miles on a California highway - a white-knuckle moment caught on camera thanks to a quick-thinking motorist.
The truck driver asked, 'so far?' not seeming to realize he was dragging the vehicle for several miles.
What a drag: This was a hitch an American driver clearly didn't want.
More news: Canada Introduces Legislation to Legalize Marijuana
As Steimke gets closer to the auto, he notices the driver waving his hand out of the window in an attempt to get the truck driver's attention.
Other drivers honked their horns and someone finally got in front of the truck and stopped it.
Eventually a driver slowed down in front of the lorry in order to make it stop.
Brian Steimke was traveling northbound on I-15 in suburban Los Angeles on Wednesday when he came upon a shocking sight: a tractor-trailer barreling down the highway, dragging a burgundy Nissan Maxima right down the road with it. Based on the description, the incident appears to have taken place on Interstate 15 in California. What Maestas did not release was the Nissan Maxima being driven by Javier A. Diaz Jr, 34, of Oak Hills was already in the lane.
CHP said the 62-year-old Bakersfield man who was driving the truck didn't show any signs of impairment nor were there any mechanical problems with the truck.
After police arrived at the scene Mr Maestas was allowed to drive away.